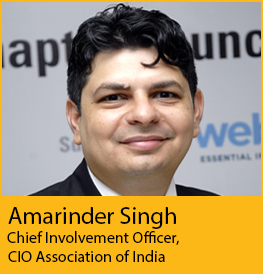 Dear Friends,
We are excited to bring to you the second edition of eMavericks Insight which features conversations with the Founders, CXOs and Investors of online commerce companies as well perspectives on this industry. eMavericks is a CIO Association of India initiative, powered by Dell; the first company in the world to record a million dollars in online sales in 1997. There is so much innovation and acceleration happening in the e-commerce space right now that it is not easy to keep pace with it.
Let's take the big news of Paytm winning the title sponsorship rights for Indian cricket for four years. Online companies are now not only big spenders in TV and print (especially newspapers) advertising, but also outdoor media and celebrity endorsements. The likes of Flipkart and Amazon are the biggest takers of office space, overtaking IT/ITES companies for the first time. The first half of the year has also witnessed more than double the M&A activity (34 deals) as compared to the same period in 2014 (11 deals).  Since January 2014, close to 40 companies have raised subsequent rounds of funding almost within six months – case in point being Practo – they are also our cover story for this edition of the newsletter.
After startups, Indian business conglomerates will drive the next set of euphoria in e-commerce. Dr. Nirmalya Kumar (former Professor of Marketing, London Business School), a member of the Group Executive Council Tata Sons is spearheading the group's e-commerce strategy. Tata will have an e-commerce play in lifestyle products, health, and wellness categories. In the exact words of Mr. Mukesh Ambani, "This year will bring about a disruptive shopping experience for consumers as they embrace technology and get access to anytime-anywhere shopping. With the advanced internet infrastructure built by R-Jio, and a robust physical retail business built by Reliance Retail, we will create a differentiated e-commerce model for India". Mahindra has appointed Mr. Jaspreet Bindra, former CEO of Askme.com, as Group Senior Vice President for Digital Innovation and e-commerce. Their online play could be in auto division, two-wheelers, and other businesses. Aditya Birla, which is merging Pantaloons and Madura to create an INR 5290 crore lifestyle company, is gearing up a team under Aditya Birla Online Fashion to focus on e-commerce. Stay tuned for bigger and bolder forays into e-commerce by established companies.
We start this newsletter edition by sharing the key takeaways from the first eMavericks Google Hangout which include valuable insights on how Pizza Hut went digital in India, how Explara was built as India's first DIY event management platform, what technology trends are driving the rise of e-commerce in the Asia Pacific, and how to leverage customer data for competitive advantage. We then have a discerning conversation with Founder and CEO of Practo, Mr. Shashank ND. Practo is in a unique position of having a globally respected strong B2B software product (Practo Ray) that is tightly integrated with its much-loved consumer offering (Practo Search) – creating the world's first and only healthcare hyperloop connecting the entire healthcare ecosystem and helping millions of consumers make better healthcare decisions. Over the past six months, Practo has grown over six times to become one of the fastest growing healthcare platforms in the world with nearly 200,000 healthcare practitioners on it and over 10 million monthly searches by consumers looking to make the right healthcare choices. In total, they have raised $125 million in venture funding – one of the largest in the world of Digital Health. We found Mr. Raghav Bahl's blog (in his personal capacity) 'Winning the Marketplace' intriguing. He takes a contrarian view on first focusing on getting the Supply side on the platform instead of the Demand side; if you're still not convinced, jump to his article, which is our next item.
MakeMyTrip is one of India's initial online commerce success stories with an envious founding team, which subsequently got listed on NASDAQ and went public. It has grown both organically and via acquisitions, and was an early mover to focus on mobile technologies to serve customers better. In order to maintain its market position as the leading online travel service in India, they partnered with Dell when MakeMyTrip.com needed to consolidate its data center on a high performance infrastructure. This is shared in-depth as a case study for you to take more informed technology decisions.
We hope you will enjoy reading this newsletter as much as we enjoyed putting it together for you. Keep writing to us at amarinder@cioindia.org